PHARMACEUTICAL & NUTRACEUTICAL
APPLICATIONS
PHARMACEUTICAL & NUTRACEUTICAL APPLICATIONS
---
KORSCH has a proven track record of delivering innovative equipment for the development, scale-up, and high-speed production of pharmaceutical, vitamin, and nutraceutical products.
Our tablet presses are designed according to modern ergonomic aspects. They feature a new standard in GMP with extreme accessibility to the compression zone and a combination of quick-disconnects and smooth surfaces that permit fast cleaning and changeover.
KORSCH offers the broadest range of multi-layer technology and a comprehensive Containment and Wash-in-Place technology for OEB 3, OEB 4, and OEB 5 applications.
The extremely user-friendly control system is 21 CFR Part 11 compliant and offers password login, press force control, single-tablet rejection, product recipe, event log, reject log, alarm history and full network connectivity.
Every KORSCH is a masterpiece.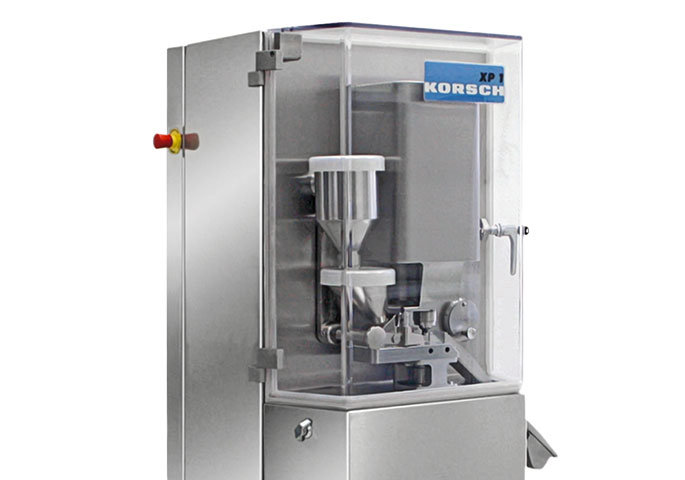 R&D
Equipment specially designed for initial feasibility and development of new products, including:
PharmaResearch - data acquisition and analysis
Mixed turrets
Full functionality with reduced press tools
Special configurations for small material quantities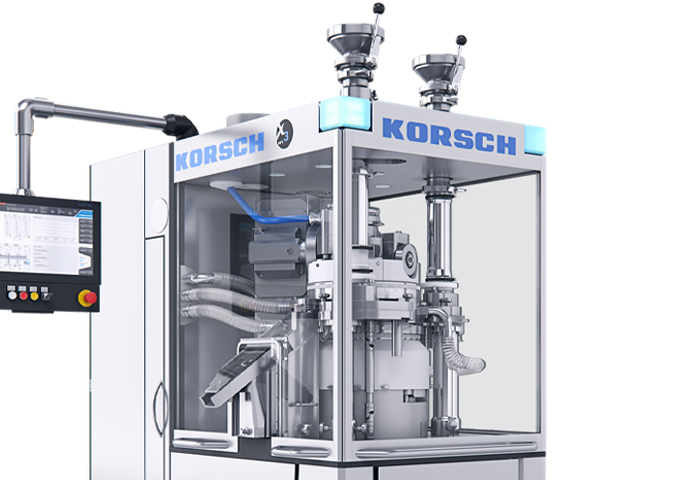 SCALE-UP
To assess the product behavior under compression when increasing the production speed, our scale-up equipment includes the following features:
Full instrumentation
PharmaResearch - integrated data acquisition and analysis
Validatable data export and processing
Press force control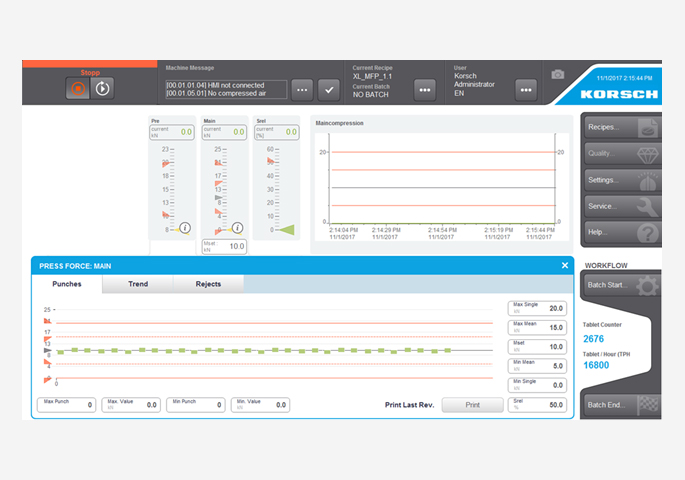 Clinical Batch Production
Clinical batch production requires full production controls in a small scale equipment platform. The KORSCH range of equipment for clinical batch production includes:
Electronic audit trails (event, alarm, reject)
PharmaControl® - automatic compression force regulation
Single tablet rejection
PharmaResearch - integrated data acquisition and analysis
Full batch reporting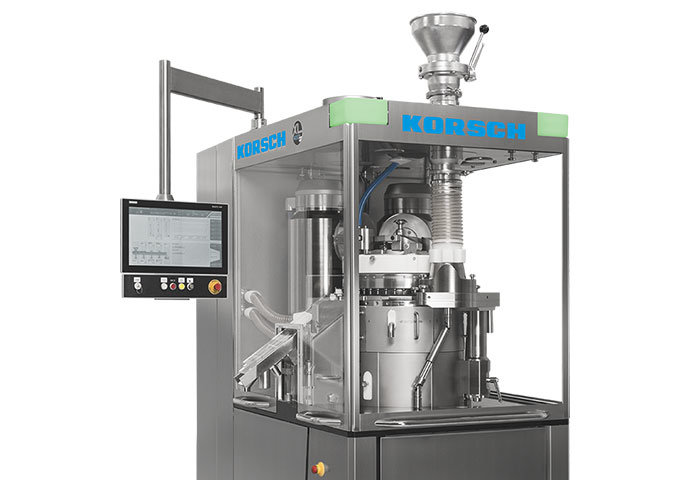 PRODUCTION
Equipment specially designed for high speed, 24/7 fully automated production, including:
Single and double-sided equipment platforms
Single and multi-layer equipment platforms
Exchangeable turret and fast changeover capability
Permits full compliance with 21 CFR Part 11
Range of Pharmaceutical & Nutraceutical Tablet Presses
---
Our tablet presses for the pharmaceutical and nutraceutical sector at a glance. A possible containment version can be found within the respective products.