KORSCH AG - Berlin Reinickendorf
---
The Specialist in Tablet Compression for Over 100 Years
Specialization is the key. Since 1919, KORSCH has focused on its core competency of tablet compression technology. This focus and resulting experience base is the foundation for the broadest and most innovative product line for tablet compression technology. KORSCH offers an optimal solution for virtually every tablet compression application – through initial feasibility, research, scale-up, clinical production, and full scale 24/7 production. KORSCH presses are used successfully all over the world and are supported by a global network of sales and technical service specialists.
---
KORSCH is where you are
KORSCH innovation is being leveraged today by customers in every global market. More than 80 % of KORSCH equipment is exported from our headquarters in Berlin to customer sites all around the world. Innovation and quality have no borders and the unique advantages of KORSCH technology are very well established in virtually every corner of the globe. KORSCH offers an extensive global network of sales, technical service, and spare parts professionals to meet and exceed your requirements, anywhere in the world.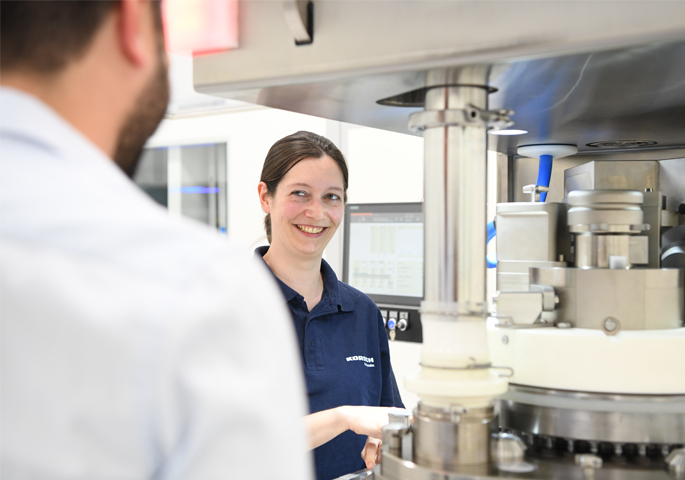 Customer Driven
KORSCH has a rich history of innovation and our design efforts are always customer driven. The industry need for higher flexibility and utilization resulted in the development of the XL 400 MFP Tablet Press, the only machine in the world that can produce single-layer, bi-layer, tri-layer, and core-coated tablets on the same platform.
The Hundredth Anniversary
---
100 Years Celebrating Tablets
Equally conscious of tradition and innovation, they have always had the cross-departmental and cross-border courage to rethink and continuously improve the tried and tested. The results are ideas, which will actively help to shape the future of the "tablet" as a dosage form and its production.