Products
KORSCH PharmaView® – Augmented Reality Comes to Life
---
"We have been working on our virtual machine operation vision of the future – the KORSCH PharmaView® - since 2016," Pierre Braun, design engineer and project manager at KORSCH, explains. By being involved with the Virtual Reality Business Club Berlin, KORSCH was able to start at a very early stage of testing Microsoft's smart glasses and custom-designing this headset for its own purpose. The KORSCH PharmaView® was unveiled to a professional audience at Interphex 2017.
The Microsoft HoloLens is a stand-alone solution featuring an integrated computer, which can be operated independently without the need for an internet connection, cables, an external power supply. "This gives the user full flexibility when they are working at the tablet press – a major benefit of integrating the headset into the user's day-to-day routine," says Pierre Braun. Weighing just over 500 grams, the smart glasses are also comfortable to wear over longer periods, when they are guiding the operator step by step through a retooling or maintenance process for example. The illustrated assistance also overcomes possible language barriers and increases precision. The control system itself is operated on the basis of hand gestures or voice commands.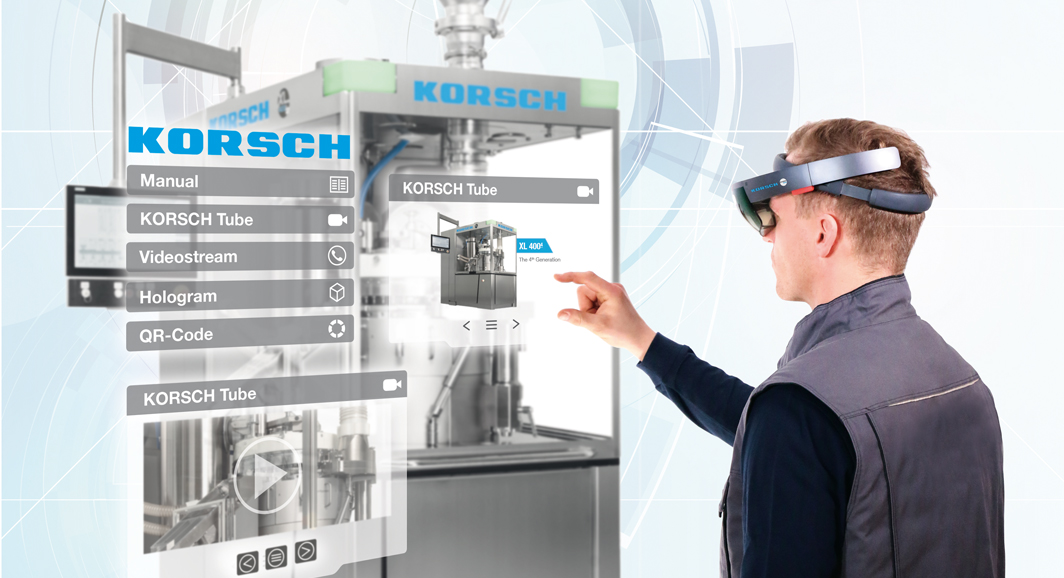 "PharmaView® projects a comprehensive menu of technical support features directly into the operator's field of vision. This includes 3D animations, holograms, photos, videos, circuit diagrams, drawings, and internal SOP documents. The HoloLens essentially offers an "x-ray view" of the machine and even enables the user to identify non-visible components and subassemblies. "The system permits a much deeper understanding of the equipment, and the clear result is higher utilization and efficiency", Pierre Braun adds. The integrated Internet connection also enables the user to call KORSCH Support directly from the HoloLens, and permit a KORSCH expert to provide remote support by seeing what the user is seeing, and conveying remedial instructions directly.
The scope of possible HoloLens applications has by no means been exhausted. Both in terms of the design and development process for new systems, or planning an entire production line, these smart glasses can provide helpful simulations and help identify potential improvements faster. "We can also offer KORSCH PharmaView® for training purposes to permit the operators to familiarize themselves the key procedures to operate and maintain the press before it has even been installed and commissioned" Pierre Braun confirms. The HoloLens technology can also support sales and marketing by permitting a potential customer to see the technical design advantages of the machine in an Augmented Reality environment.
The KORSCH PharmaView® is available for testing and demonstration at our INNOVATION CENTER in Berlin. Please ask for details or visit us for a demonstration.