Technology
Digitalization of Tablet Presses
---
General overview of digitalization of tablet presses, from past to future
KORSCH initiated an internal effort toward digitalization in the 1970s by launching PharmaControl® for automatically monitoring and controlling compression forces to automate the tablet weight control algorithm. Even if this name did not exist at this time, it was indeed a first step of PAT (Process Analytical Technology).
Today, KORSCH tablet presses feature an advanced control system with an intuitive operating environment and are fully prepared to fit into the smart factory concept.

As a machine manufacturer, our role in assisting our customers to move toward Industry 4.0 is to equip the machine with the means to acquire and transfer all the necessary data to a supervisory data processing system that is specified by the customer.
The KORSCH control system features an open architecture and the ability to easily integrate the machine to a central network. In addition, a standard OPC UA server permits press parameters to be passed to a SCADA or Historian system in real time. Advanced capabilities further leverage the data through Edge computing or secure cloud solutions for additional data processing.
A sophisticated analysis of performance indicators can then help to localize immediate optimization potential, to increase machine availability and output, to reduce energy consumption, and to coordinate and optimize maintenance intervals. The smart use of data ensures that production is always efficient, and that total cost of ownership is minimized.
This digitalization strategy for the machine design provides a higher product quality, lower total cost of ownership, and significant advantages and convenience in the day-to-day machine operation, from electronic production monitoring to operator assistance through augmented reality.
Additionally, machine data may be made available for sharing with external systems through a VPN (Virtual Private Network) connection. Today, networked machines inside a factory are a standard but in the future, it is the factory itself that will be networked with the outside (other sites of the same company, partners, suppliers etc.) to reach the goal of industry 4.0 which is a fully digital supply chain.
It is critical that all components can communicate inside the machine and to external systems and the first requirement is to harmonize programs.
Programming carried out according to international standards in the sector guarantees the communication with other machines and systems. Since the KORSCH control system is based on the Siemens SIMOTION PLC, the complete automation including controls and peripherals (distributed I/O), visualization (HMI), drives, motion controls and safety functionalities, is integrated on one single platform, the Siemens TIA Portal (Totally Integrated Automation). Furthermore, the programming norm PackML (Packaging Machine Language) from OMAC allows communication between all machines that are programmed according to the same standard.
The next requirement is a technological breakthrough with the use of intelligent components, ready for Industry 4.0.
Among these components, smart sensors, featuring for example an IO link, play a key role in making Industry 4.0 a reality. In contrast to conventional sensors, these advanced sensors do more than just provide simple measurements. Functioning fully digitally, they are the interface between the operational technology (OT) and information technology (IT) levels.
Three types of data are being exchanged between machine control system and IO-Link device (i.e., sensor or actuator): process, parameter, and diagnostic data.
The data generated by sensors can easily be processed and then used as a basis for operational or strategic decisions
Digitalization is not the robotization of the process but the total interactivity between the actors in the production setting, among which the operators play a key role.
Processes are becoming more and more complex and demands on the functionality of machines and plants keep on growing. The operators must have access to information and knowledge in a timely manner to make the best possible decisions; this is what effective an Human Machine Interface (HMI) offers.
The interface design must not only be user friendly, it must simplify complicated processes and thus enable intuitive and efficient work, minimizing operator error and accelerating the learning curve for less experienced operators. Users must be able to find their way around quickly and easily, which is ensured by recurring elements like icons instead of text, a consistent screen structure, and easy-to-understand navigation.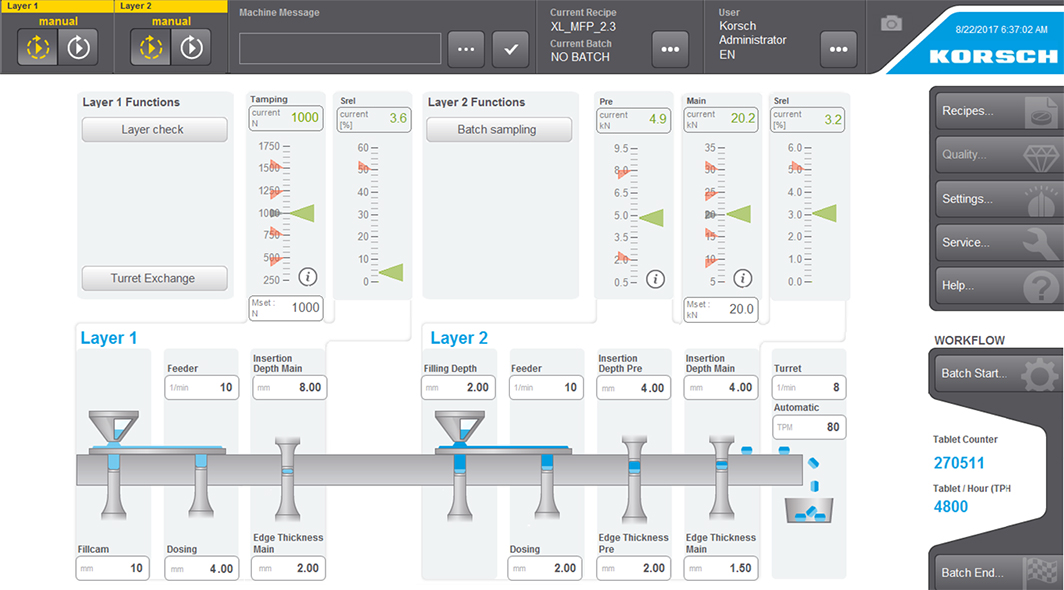 The KORSCH Smart-Touch HMI sets a new standard for help content which is integrated in the HMI environment to permit direct access during the machine operation and maintenance, by providing a direct link to support documents (manuals, drawings, and schematics), multimedia support files (videos, pictures), access to an electronic spare parts catalog, troubleshooting, and diagnostic support.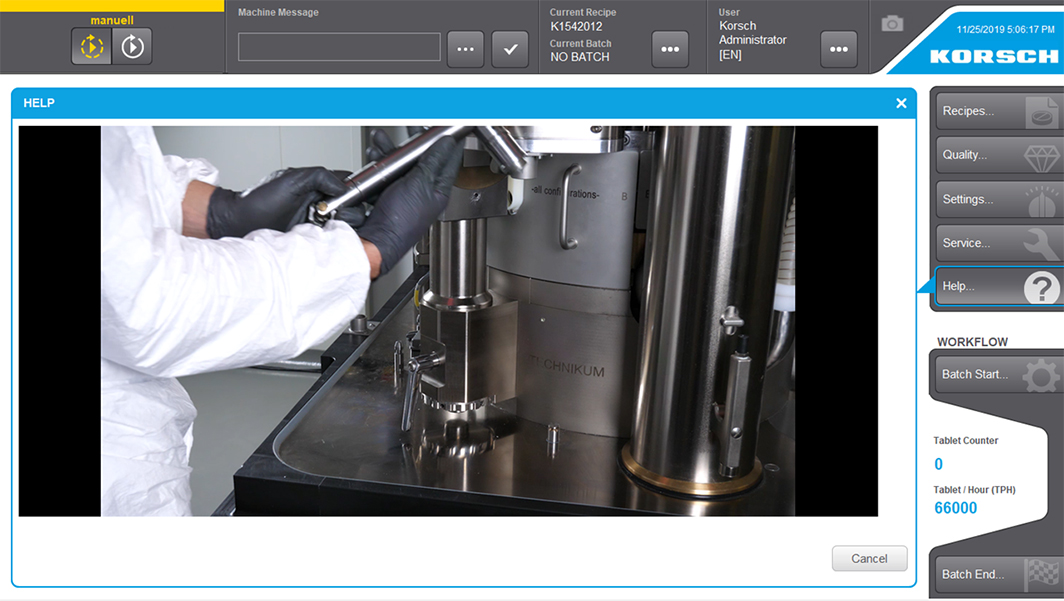 For special operations like turret removal or calibration, the operator is guided by interactive wizards that assist him step by step through a safe and efficient procedure, which leverages proven best practices.
Control platforms: smart phone, tablet, voice…
Duplicating the HMI on one or more screens was implemented quite a long time ago and it is a standard in some pharma plants. It allows production managers or supervisors to visualize and monitor the production status without entering the production room. Today, it is possible to utilize a smart phone or a tablet instead of a PC screen to remotely monitor the process.
The ultimate operator support with Augmented Reality
The KORSCH PharmaView® is an interactive operational assistant based on Microsoft HoloLens augmented reality technology. The smart glasses beam holograms and additional information into the user's actual visual axis, enabling guided, hands-free setup, operation, and maintenance. The remote service via video call function permits a secure, streamlined, remote troubleshooting capability that will save time, reduce costs, and improve overall efficiency and uptime.
In a near future it will also be an excellent tool for training purposes and will enable virtual operator training sessions to be performed before machines are delivered.
In the future, the replication of the machine controls will be implemented in Augmented Reality where the operator can control the machine using the smart glasses instead of typing on the HMI.
The security of production data always has top priority. All functions are available offline; communication is local, directly between HoloLens and machine. With the exception of the video streaming function, HoloLens works on a stand-alone basis and does not pass on information externally.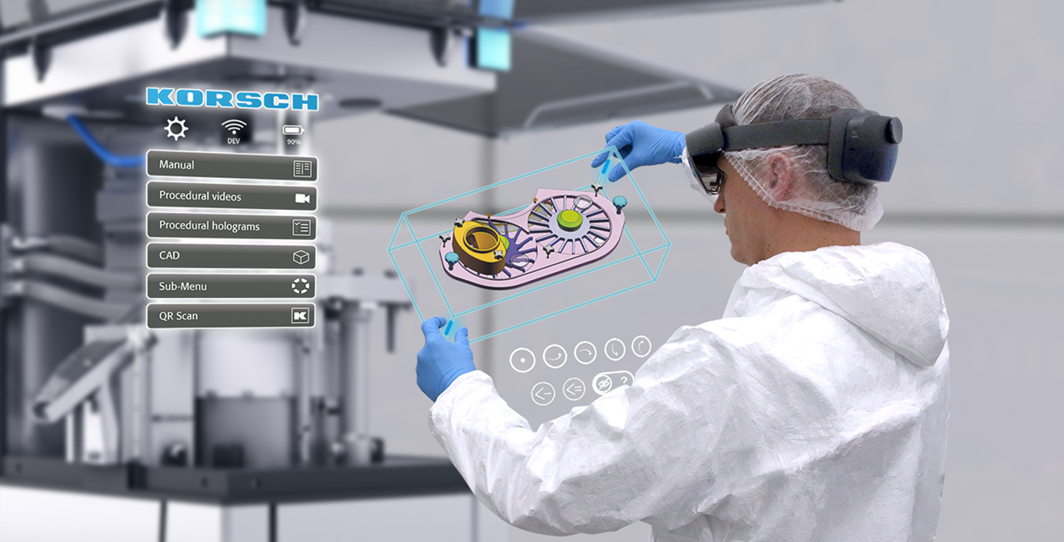 Data processing and analytic tools
As a standard, a tablet press generates a comprehensive set of electronic production data. The question is how to extend the use of this electronic data beyond what is usually done for production automation and batch recording.
It has been common practice for some time to connect the machine to the plant's computer network and to transfer the machine data via OPC-UA communication protocol to a supervisory system for centralized production management.
In the area of tablet press technology, the emphasis on Overall Equipment Effectiveness continues to be a major consideration. Tracking machine uptime, output, and yields, in addition to key quality attributes, improvement efforts around reducing changeover times, or permitting a single operator to monitor multiple machines, are key areas of focus.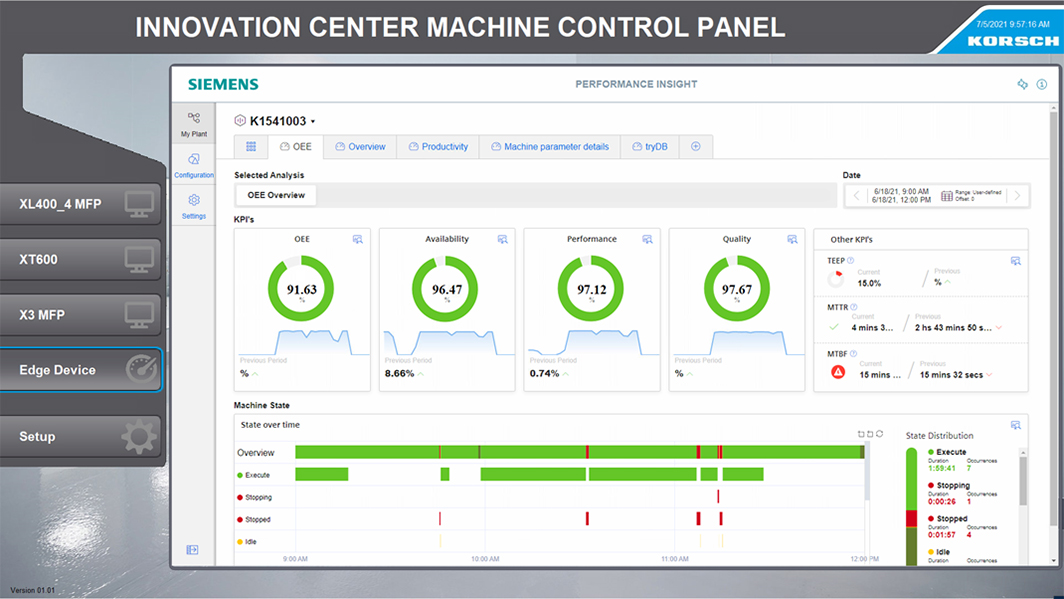 In general, it is not convenient to have software offering productivity calculations on each and every piece of process equipment, using different methodologies. For most advanced production facilities, it is far more interesting to compile in a single system the data of all the production machines of the plant and to process them jointly according to a standardized methodology. This allows the global evaluation of all plant data to draw conclusions and drive critical decisions.
This can be done either locally (edge computing) or in the cloud. For this purpose, it is possible to use programs or applications developed by industrial data processing specialists, like our partner Siemens.
The Edge computing solution from Siemens, Simatic Edge, supports data acquisition from several KORSCH machines simultaneously, the presentation of key performance indicators, and real-time monitoring of the maintenance, alarms, and production data, with the ability to draw technical correlations on a historical basis.
It is possible to leverage the data processed with Simatic Edge via upload to a secure cloud solution (Siemens Mindsphere) for further assessment or for data sharing with external systems.
KORSCH is advancing our digital technology to support our customers to achieve higher quality, cost effectiveness, and maximum efficiency during day-to-day machine operations.
Digitalization is clearly the "enabler" in this process. It is the driver for enhanced continuous communication between machines themselves and with operators.
The future for Industry 4.0 will focus on artificial intelligence. The machine will analyze data collected and will be able to learn from it, meaning that it exploits any potential to further optimize the product quality or overall efficiency.