Technology
Continuously Good
---
Continuous processes offer pharmaceutical companies a number of advantages. For example, they enable continuous quality control during production and a deeper understanding of the interdependencies between individual production steps. They also allow rapid intervention in the event of faults or process deviations, without the need to discard an entire batch. During the product development phases, tests can be conducted inline, eliminating the need for any subsequent scale-up - saving time during product approval process. There are many good reasons to consider continuous process technologies.
In general, there are three different types of processes: direct compression, wet granulation, and dry granulation. The choice of process depends on the compressibility and other properties of the ingredients.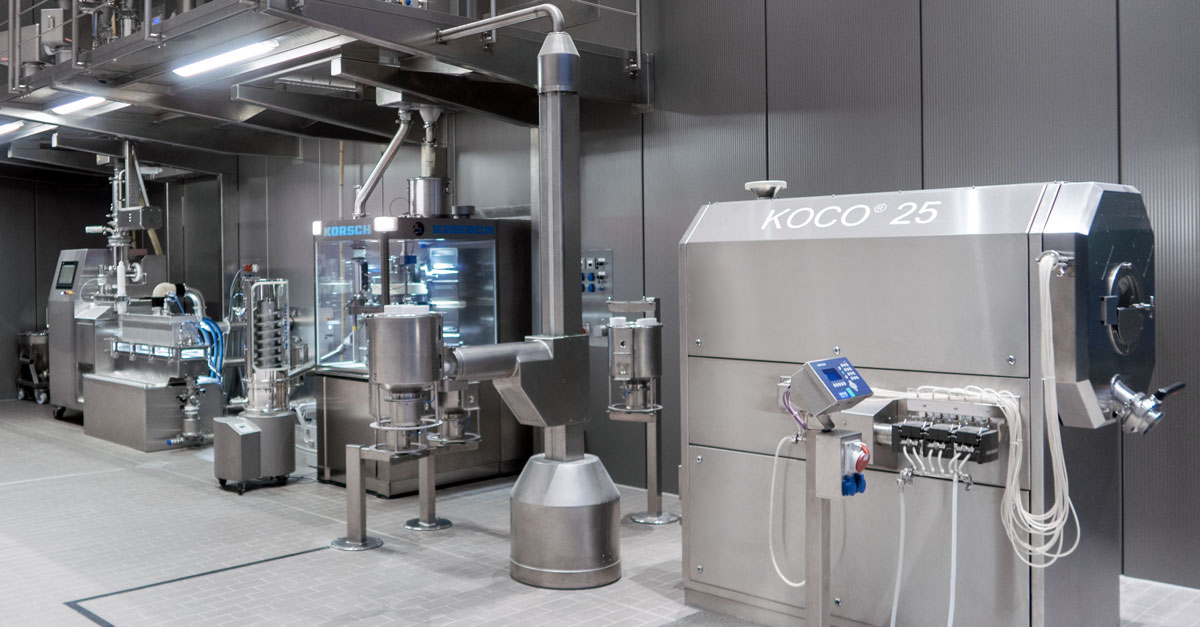 Direct compression: simple and effective
Direct compression is an option if the blend of dry ingredients can be compacted immediately without needing to be granulated. In this case, the ingredients are channeled via feeders into the mixer and then directly into the tablet press. Following elastic recovery, the final coating is applied if necessary. This closed process is ideal for hygroscopic materials, as no moisture is introduced by the addition of air. This process saves a great deal of space and requires only a minimum of material logistics. There are also no process stops that could facilitate segregation of different sized particles.
In any type of process, continuous control using process analytical technology (PAT) is important. Near-infrared spectroscopy (NIR) is considered the first choice upstream of the tablet press. It screens the ingredients, providing a chemical fingerprint for each compound. The granulation moisture and active ingredient concentration can therefore be monitored in real time, and tablets can be rejected immediately if deviations are detected. Appropriate parameter adjustments can be made if necessary.
Wet granulation: granulation extends the range of continuous applications
Wet granulation involves the use of very effective liquid binders that can be metered extremely sparingly. Compressibility and particle size distribution can therefore be accurately controlled. However, the process is quite complex compared to direct compression and dry granulation. A twin-screw granulator, such as the QbCon®1, an L.B. BOHLE R&D system that can simultaneously feed, granulate and dry, is used after mixing. Featuring short residence time and residence time distribution in the dryer, this device ensures that defective products are specifically removed. At the same time, that makes ingredient traceability easier.
At this stage of the process, NIR provides the option of monitoring content and particle sizes inline. Dust generation during drying is the biggest technical challenge in wet granulation. L.B. Bohle technology features special filters that ensure dust removal from the dryer, and the fine dust is returned to the process. This method is particularly safe, especially if high-containment processes (OEB 4 and 5) are involved.
Dry granulation: best choice for large volume, moisture- or temperature-sensitive ingredients
A dry granulation process requires less space and less energy input than wet granulation. However, processing using a roller compactor requires significantly more excipients than wet granulation - in some cases they account for as much as 40 percent of the tablet mass. The reason for this is that liquid binders are much more effective than powders. Nevertheless, dry granulation may be the best choice for some compounds in terms of product properties such as disintegration, tensile strength, compressibility, and particle size distribution. This applies particularly frequently to high-volume, moisture- or temperature-sensitive ingredients. In this process, the ingredients are channeled after mixing into an L.B. BOHLE roller compactor, which operates continuously, similar to a tablet press. The roller compactor compresses the powder thin ribbons. These are in turn milled into granules of the desired particle size distribution. Here too, NIR can be used for particle size measurement and control.
Tablet press: a constant in the process
Be it direct compression or granulation - a tablet press is used downstream in the process. Based on the typical output of a continuous line, the KORSCH X 3 Tablet Press is particularly well suited for the application. This mid-sized tablet press offers a wide range of turret configurations and high containment flexibility. It also incorporates the most advanced production control system, which features an open architecture that allows it to be integrated easily into a centralized network including domain authentication, centralized formulation management, and centralized production report archiving. Innovative punch lubrication and dust extraction systems enable the X 3 to operate for particularly long periods without intervention This ensures optimal performance in the context of a continuous production line.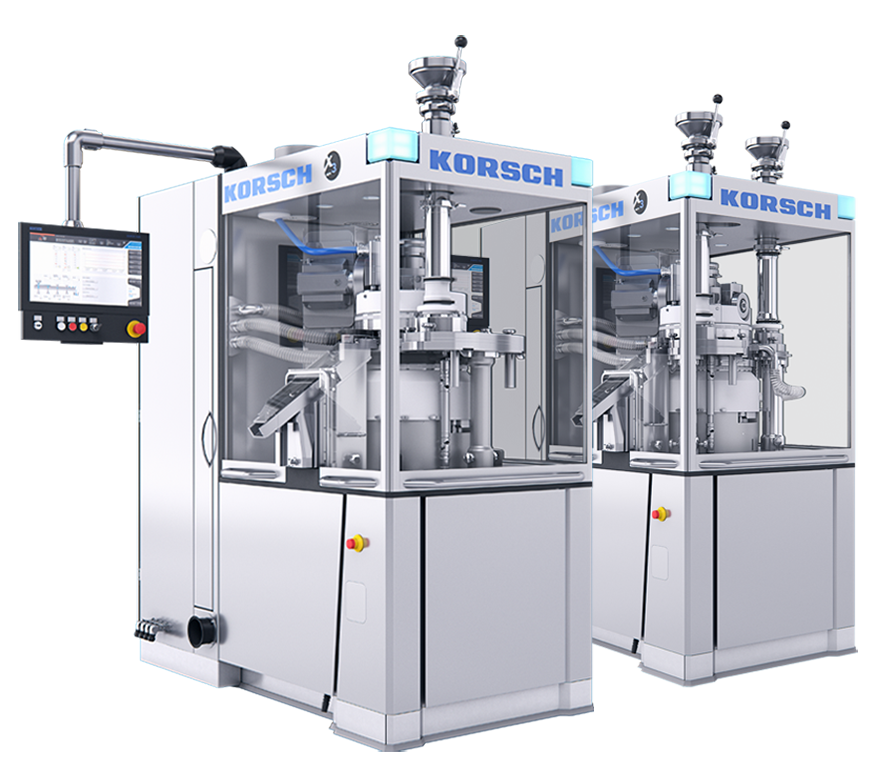 The press operates continuously and is equally suitable for batch and continuous production. Integration into the overall process and therefore into the SCADA system (Supervisory Control and Data Acquisition) is a critical requirement for success in continuous manufacturing.
The SCADA system controls the interfaces between the process equipment, ensures data transfer and acquisition, and provides the operator with a common HMI for the complete line. This fully integrated system and extensive use of PAT technology provides a deeper understanding of the production process. Integrated control and PAT monitoring eliminate the requirement of scale-up – and the equipment used for development can simply run in a continuous mode in the production setting.
KORSCH's PharmaControl® press force control unit and PharmaCheck® tablet tester play an important PAT role in continuous production. The PharmaControl® monitors the compression force of every tablet produced, with precision closed loop control of the dosing position, to ensure superior tablet weight control. A single tablet rejection system will reliably reject an individual tablet, across the speed range of the press, based on the individual compression force measurement. The PharmaCheck® measures the tablet weight, thickness, and hardness in real-time, and offers closed loop feedback to the press to ensure that these critical process parameters are within specification limits.
The tablet press forwards all data to the SCADA system, which compiles the measurement readings of all PAT tools and can trigger automatic adjustments to the process. PAT management is an independent module within the SCADA system. It manages measurement control and closed loop feedback. The extent of automated intervention depends on the design of the process.
Continuous containment processes
As continuous processes are closed production processes, they are also ideal for high-containment applications. With minimal product transfer points and make / break connections, the ability to contain the process becomes significantly easier. Another advantage is inline quality monitoring, which eliminates the need to discard entire batches in the event of errors. This aspect often plays an important role in terms of the expensive ingredients that are often used in high-containment production lines.
One process design challenge can arise in a continuous product line is the ability to clean the system with was-in-place technology. Wash-in-place cleaning (WipCon) under negative pressure is mandatory for OEB 4/5 processes. As the equipment train is linked, the cleaning process is also applied to the entire system. Therefore, washing water may be used to clean several machines and must be drained after the tablet press stage. There are various configurations for effective cleaning, and it takes a specialist to find the best individual solution.
Continuous vs. batch: experience is what makes the difference
Many factors play a role in opting either for batch or continuous manufacturing. PAT tools make the continuous process very safe but entail a higher level of initial investment. Continuous lines also require less space and a lower energy consumption. Operator training is also crucial: operators do not just handle one machine but operate the entire process via a SCADA interface. This is a paradigm shift that requires a much broader understanding of all the processes involved. Managing instead of operating - this mandates a significantly higher level of training.
KORSCH has formed a corporate alliance together with L.B. BOHLE and other technology partners that have expertise in all the steps involved in continuous production and together, we have gained critical experience in a wide range of continuous projects. KORSCH and our technology partners offer comprehensive engineering, process development, and validation support services, and we collaborate with our customer to develop specific solutions to meet the full requirements of continuous production.