Technology
Everything Starts with an Understanding of the Materials
---
Sound knowledge of the active pharmaceutical ingredient (API) to be formulated and the required excipients is a basic prerequisite for the successful development of any pharmaceutical dosage form. This applies in particular to direct tableting. This is because the variety of different materials is vast: suppliers offer the full range from fillers to disintegrants and flow agents to flavor maskers. Communication with raw material and equipment suppliers is therefore important for ensuring resilient formulations and secure supply chains that have any potential product variability covered. Coprocessed excipients may also provide a solution. These are a combination of different materials that are given different functionalities through physical coprocessing manufacturing rather than through simple blending.
Step by step to the optimum solution
First of all, the API is extensively characterized, to enable the required excipients to be selected. The second step involves defining the most suitable production process, based on an interpretation of the API characterization data. Is direct compression feasible or is a preceding dry or wet granulation process necessary? Consideration must also be given to anticipated production volumes and to the issue of which tablet press can or should be used for serial production purposes. "If continuous production is being considered, this should also be factored in right at the beginning," Thorsten Cech, European Application Lab Manager at BASF, advises, because subsequent changeovers are rarely feasible without problems occurring. Potential downstream processes, such as coating, should also be considered. Last but not least, storage time and therefore requisite stability must be included. It is also advisable to consider more than one production process in the formulation phase, in case problems arise at a later stage of product development. The required excipients can be selected as part of the third step, based on the API characterization and the production parameter outcomes.
Database and software support
The aim is to develop a stable formulation as quickly as possible in order to shorten the time to market. There is a wide range of support available: compaction simulator and tablet press software databases help to determine the individual fingerprint of both the API and excipients at constant process parameters. This includes various properties such as compactibility, tabletability, compressibility, elasticity, elastic recovery, and others.
Simulators, such as KORSCH-MEDELPHARM's STYL'One Evo, enable accurate functional characterization of tableting behavior. This is a valuable add-on to pharmacopoeia-based characterization, which is primarily concerned with mechanical product properties (such as flowability). Another advantage is that knowhow remains within the company, as the measurement data is stored as a knowledge database in the tablet press' software.
The algorithm of BASF's ZoomLab™ software solution provides an opportunity that builds on and complements this capability. This free, web-based tool guides the user through the API characterization process by means of easy-to-follow tests and questions, and therefore specifies a choice of possible excipients for the formulation. To do this, the software draws on an extensive database that includes raw materials from both BASF and other suppliers. "Our ZoomLab™ virtual pharmaceutical assistant helps the product developer avoid a time-consuming and costly series of tests. The active ingredient itself does not need to be disclosed here in order to meet confidentiality requirements," Thorsten Cech explains.
Compacting simulators are ideal for characterizing small material quantities. They allow testing of numerous different compaction profiles, for example sawtooth profiles at constant punch speed. "This is an immense advantage when the active ingredient is only available in small quantities or is very expensive," Bruno Leclercq, Business Development Manager at MEDELPHARM, explains.
Quality by Design significantly improves the development process
In recent years, Quality by Design has been the "game changer" in terms of raw material selection and the search for the optimum formulation, says Thorsten Cech. "Manufacturing a product with as little variability as pos-sible is of the utmost importance," he emphasizes. It is therefore necessary to define which process parameters and excipient properties have an impact on the quality attributes of the finished tablet. These describe the design space within which drug quality remains constant and is not subject to any major fluctuations, meaning that consistently high quality is guaranteed over the long term. So-called Design of Experiments is used to investigate any variability. The individual process- and product-relevant factors are examined during this process, and varied independently of one another in order to determine their effect on the target variable and to derive a comprehensive cause-effect model. From this, it is possible to determine whether the intended targets are achievable or whether certain targets are contradictory. It is also important to minimize potential problems in advance, for example through a change of supplier, a change of production location or similar.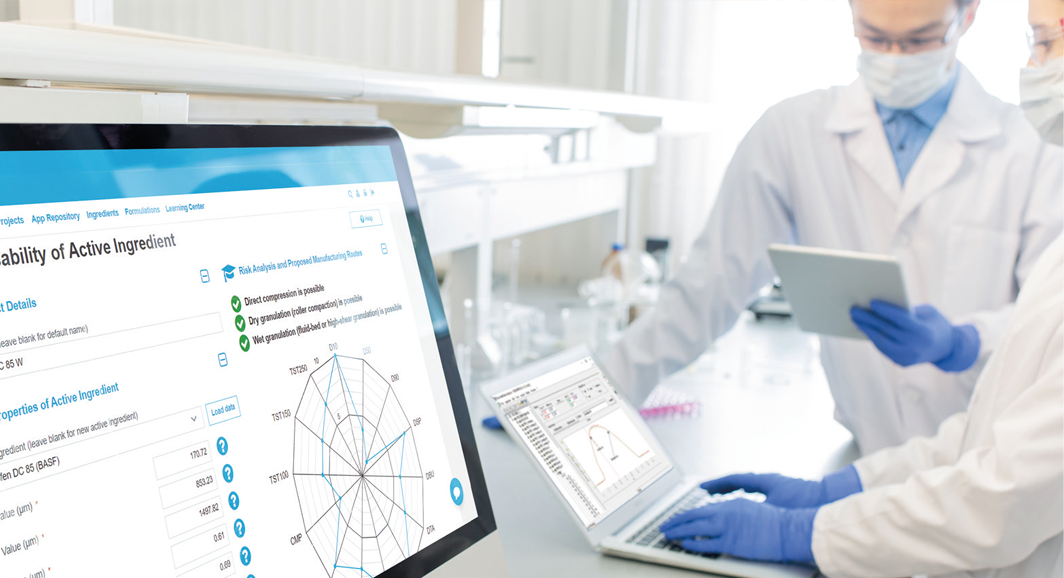 ABOUT BASF
BASF is one of the world's leading manufacturers of excipients for the pharmaceutical industry. A comprehensive portfolio addresses the needs of oral, dermal and parenteral applications. Solubilizers are also provided to improve the solubility and bioavailability of active ingredients. The portfolio is complemented by products specifically for biopharma applications. For tablet formulation purposes, BASF provides binders, fillers, disintegrants, lubricants and coprocessed all-in-one products like Kollitab™ DC 87 L, which was launched in 2021
The European Application Lab in Ludwigshafen is well equipped and features, for example, KORSCH-MEDELPHARM R&D equipment, XP 1 and XL 100 tablet presses and the STYL'One Evo compaction simulator. It is used both for the company's own trials and for customer consultancy purposes.
BASF-developed ZoomLab™ software with its algorithm actively assists pharmaceutical companies with selection of excipients and starting formulations.