TRP 1200
LARGE FORMAT AND DEEP FILLING DEPTHS
TRP 1200 - Triple-Sided Technical Rotary Press
---
The KORSCH flagship for technical applications, the TRP 1200 offers a rugged, flexible, and advanced design that supports single-layer, bi-layer, tri-layer, and ringed formats. A patented turret segment changeover permits a full tool replacement in less than 2 hours, which offers an unprecedented level of efficiency and uptime. Heavy tonnage compression columns, and a unique carrier plate design isolate vibration to ensure the lowest operating noise levels. The long feeder lengths and deep fill depth permit large formats with precise tablet weight control.
Technical & Chemical Applications
The TRP 1200 can be delivered for single layer or multi-layer (up to 3 layers) tablets production. Special solutions are available for each application, including:
turret with center pin holder for ring tablets
star wheel tablet discharge and conveyor belt for dishwashing tablets
special surface treatments for salt tablets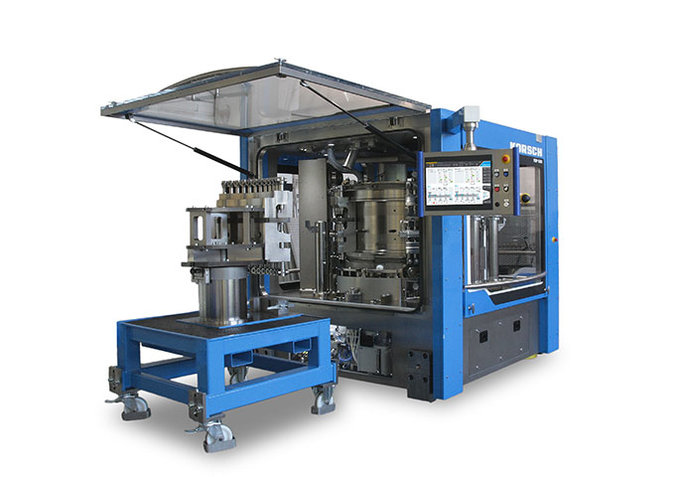 Robust Design
Technical rotary presses must be workhorses – in the most demanding environments, they must be productive, efficient and extremely reliable. They are frequently used to process aggressive or abrasive materials, and very large formats.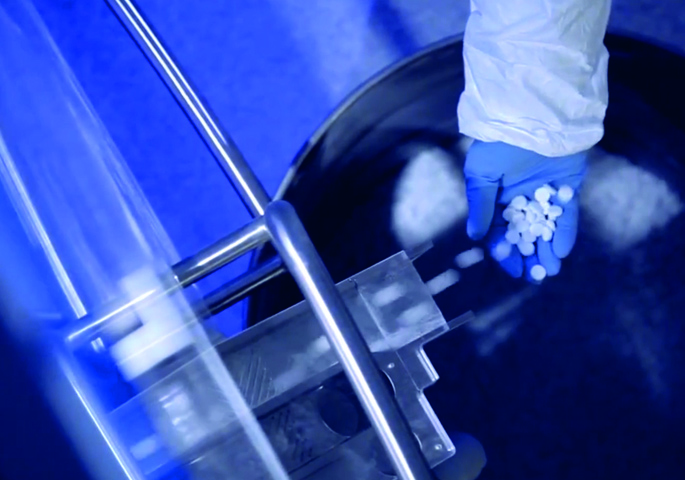 Superior Output
The maximum output is 378,000 tablets per hour at 25 RPM. The TRP 1200 is clearly intended for continuous, high-speed production, and is designed to operate a minimum of 160 hours without any significant maintenance or service.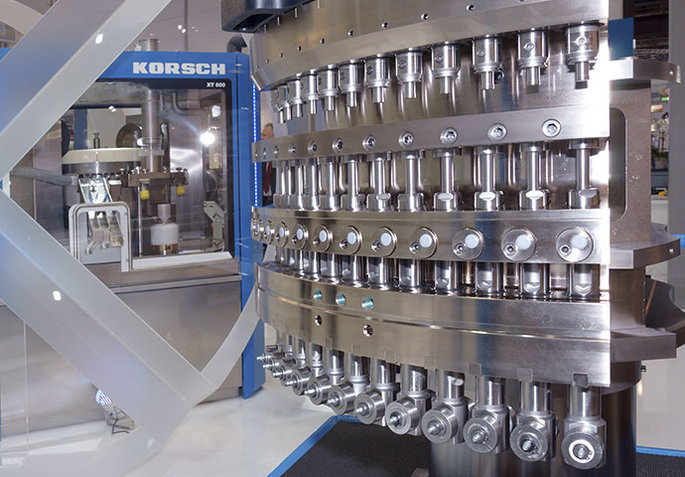 Segmented Turret
The turret is split into six individual segments weighing approx 400 kg each.This permits quick change over and efficient cleaning, avoiding having to remove a single large heavy turret. Segments are disassembled with upper and lower punches. All cams remain in the machine.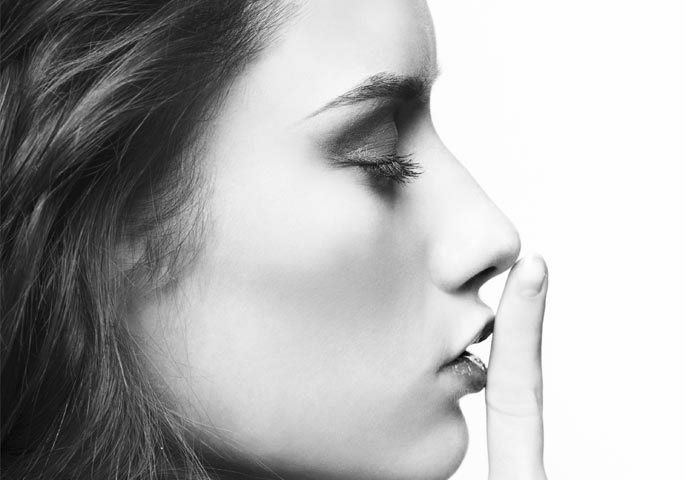 Minimal Noise and Vibration
The unique and patented design of the carrier plate, with dampers, fully isolates vibration from the head piece and machine base. The result is:
Very low noise emission <  80 dB(A)
No vibration transmission to the floor or overhead feed system
No segregation of material in the overhead feeding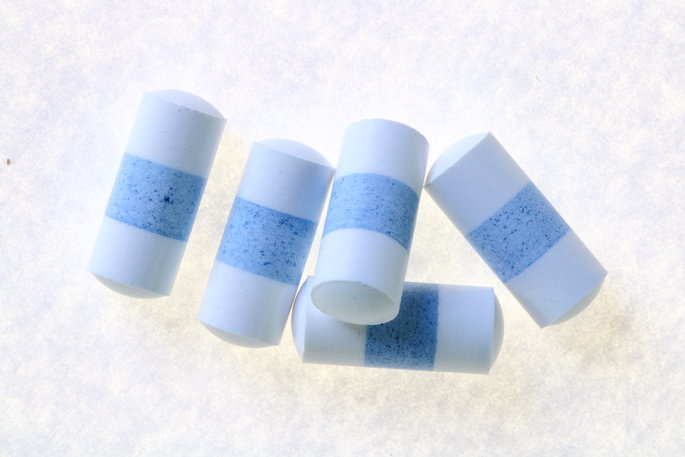 Multi-Layer Capability
The TRP 1200 can be delivered as a multi-layer rotary press for bi or three-layer tablets, with:
Low tamping force measurement and control capability for multi-layer formats
On-demand layer sampling at production speeds
Absolute separation of layers – closed feeder design
Dust extraction to prevent cross contamination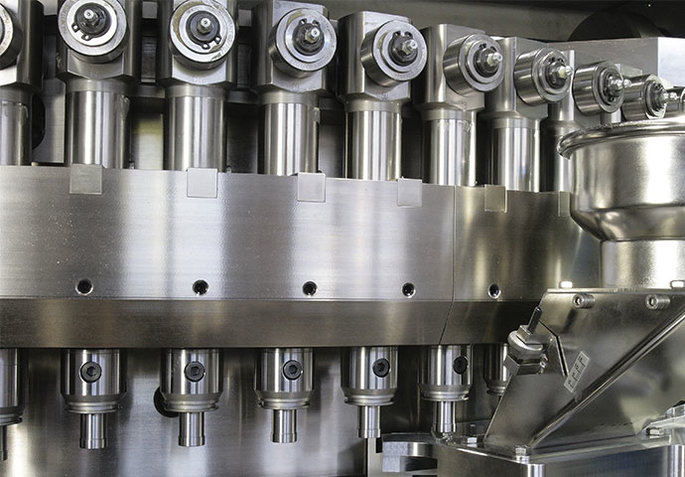 Press Tools
The punches are roller guided on both sides and shafts with patented heavy duty profile heads permit extremely high loads and eliminate wear on press tools and compression rollers.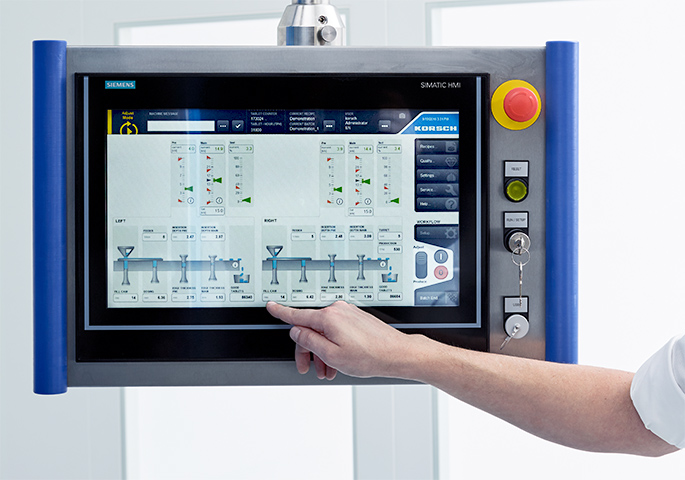 Intuitive Operating Environment
The TRP 1200 features a modern "SIMOTION" control system with Smart-Touch HMI that provides an intuitive operating environment and permits move, zoom, and scroll gestures. The HMI environment offers a comprehensive onboard help capability, which includes a vast array of multi-media help files to present procedures and to support the operation and maintenance.