Technology
The Signs are Pointing to Change on the Product Development Stage
---
New vaccines usually take around ten years to develop. The new Covid vaccines, which were available after just one year, showed that this process really can be fasttracked. In the past, pharmaceutical corporations dominated the market. Today, they are joined by an increasing number of small startups that are driving innovation and the development of new active ingredients. These "inventors" receive valuable assistance from CDMOs (contract development and manufacturing organizations), which provide them with the support they need to develop innovative drugs and bring them to market. We spoke with Dr. Sanjay Konagurthu, Senior Director Science & Innovation at Thermo Fisher Scientific, a leading provider of end-to-end pharmaceutical services, about the changes in drug development.
KORSCH:MAGAZINE: How long does the development process for a new drug take?
Sanjay Konagurthu: This is a complex process. It often takes at least ten years from the discovery of the active ingredient to its market launch. However, in certain cases, such as the development of drugs with orphan drug status, the process can also be fast-tracked.
KORSCH:MAGAZINE: And what are the success rates involved in bringing a product to market?
Sanjay Konagurthu: These are very low. To start with, out of 10,000 to 15,000 new compounds identified with the aid of high-throughput screening during the discovery phase, typically less than 10 of these reach the clinical phase. Subsequently, one of these is typically approved and reaches the market. The biggest challenges the industry faces with small molecules relate to solubility and bioavailability.
KORSCH:MAGAZINE: At what stage of development is a patent application filed?
Sanjay Konagurthu: This happens very early on, and an umbrella of patents is filed to cover the molecule, formulation and the process.
KORSCH:MAGAZINE: Is time to market the key influencing factor in the development process?
Sanjay Konagurthu: Most revenue is generated prior to patent expiration while the innovator companies have exclusivity. After that, competitors quickly follow with similar molecules, and once the patents have expired, the product is manufactured by third parties as a generic. It is the huge increase in generics over the last 30 years that is making the difference. Therefore, the time factor plays an essential role in product development.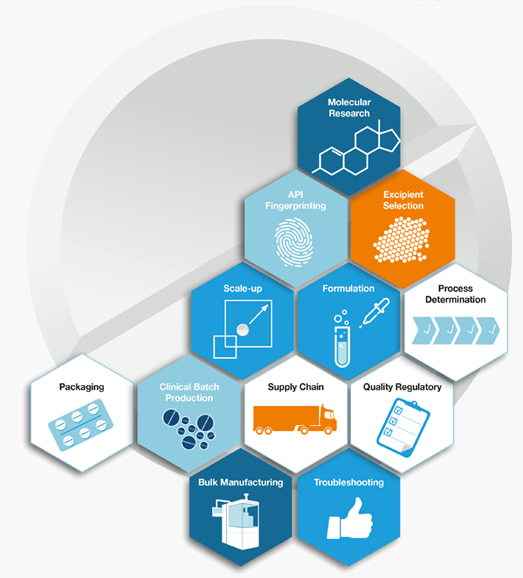 KORSCH:MAGAZINE: How exactly can time to market be shortened?
Sanjay Konagurthu: We take a very systematic product development approach. Nowadays, development can be speeded up by leveraging predictive modeling tools for process, pharmacokinetics (the totality of all processes a drug undergoes in the body) and stability issues. Methods such as compaction simulation, DEM (discrete element method) or CFD (computational fluid dynamics) are also used. These enable critical material properties and process parameters to be understood, each of which impacts on the critical quality attributes of the product. To develop a robust drug product, you need to have a really good handle on performance, process – i.e. manufacturability – and stability. All three must be considered holistically.
KORSCH:MAGAZINE: What do you regard as upcoming product development trends?
Sanjay Konagurthu: An important issue is solubility, in order to be able to exploit the potential of new APIs, improve their efficacy or enable their use in the first place. The use of technologies such as amorphous dispersions through spray drying, hot melt extrusion or lipid-based approaches can help overcome the solubility and bioavailability challenges. Continuous manufacturing will also be an important aspect. However, it is not suitable for all drugs and requires a certain production volume. Other current topics that will play an increasingly important role are "targeted medicine" or "precision medicine".
KORSCH:MAGAZINE: Dr. Konagurthu, the development of pharmaceutical products is currently undergoing change. Who is driving these innovations?
Sanjay Konagurthu: These are often small startups or even universities that conduct research and innovate. They discover new molecules and carry out initial tests, sometimes even initial animal testing. Such startups with promising approaches are occasionally taken over by large corporations, which then partner with them to complete the development and market launch processes. This happened, for example, with messenger RNA (mRNA) technology for vaccines. In other cases, the startups turn to CDMOs.
KORSCH:MAGAZINE: What does a CDMO like Thermo Fisher offer these new, innovative startups?
Sanjay Konagurthu: Around 80 percent of our customers are now smaller and emerging pharma businesses. We offer them everything from a single source – from API production, testing and screening, formulation, production for clinical phases, scale-up and commercialization through support with packaging and distribution. We therefore service the entire development, production and value chain.
KORSCH:MAGAZINE: What are the advantages for these businesses?
Sanjay Konagurthu: They don't have to deal with a wide range of different suppliers and service providers, because procurement and supply chains can be very complex. We have created our own programs to systematically accelerate product development for our customers, so that they can get to market as quickly as possible.
KORSCH:MAGAZINE: How do you see the future of the tablet?
Sanjay Konagurthu: I think the tablet has outstanding properties in terms of performance, production capabilities, and stability. It is the most widely used form of administration and will remain so in my opinion. After all, who would reach for a syringe, if they could take a tablet instead? Vaccines in tablet form will also be a major topic of interest.
KORSCH:MAGAZINE: Let's talk about your laboratory: what equipment and machinery do you use?
Sanjay Konagurthu: We have equipment from the well-known manufacturers in our network – and therefore, of course, various tablet presses and simulators from KORSCH-MEDELPHARM too. We perform a lot of compaction simulations; this is part of our toolbox, along with predictive modeling and other engineered solutions.
KORSCH:MAGAZINE: We are delighted to hear that! Thank you very much for the informative interview!